Russian Berry Pie
1 can apple pie filling
1 can blueberry pie filling
1 can strawberry pie filling
2 cans cherry pie filling
1 can crushed pineapple
1 box yellow cake mix
1 stick butter
1 bag of mini-marshmallows
cinnamon
Add can of pie filling, (it doesn't really matter which), sprinkle layer of cinnamon, repeat through the pie fillings. When the last of the berry fillings is done then put the crushed pineapple on top. Then put the box of cake mix over it, then cut up the stick of butter into pats and spread around on top. Then cover that with the mini-marshmallows. Then stick it in the fire till it's hot. That's about it. Nothing fancy.
Dutch Oven Meatloaf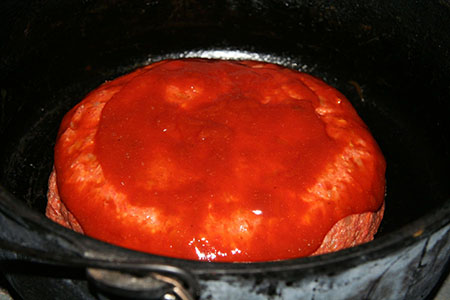 1 tablespoon olive oil
1/2 cup onion, finely chopped
1/2 cup carrot, finely grated
3 cloves garlic, minced
1 pound ground beef
1 pound ground pork
1/3 cup bread crumbs
1/2 cup ketchup
2 large eggs, lightly whipped
3/4 teaspoon kosher salt
1/2 teaspoon ground black pepper
Pinch cayenne pepper (optional
Glaze
1/4 cup ketchup
2 Tbsp packed brown sugar
1 tsp prepared mustard
1/2 tsp Worcestershire sauce
pinch of nutmeg
Pre-heat a 12-inch camp-style Dutch oven over a bed of charcoal briquettes or camp burner. Pour in olive oil. Add onion, carrot and garlic. Saute until onions are translucent. Do not brown vegetables. Place vegetables in a medium bowl and cool slightly. Wipe Dutch oven with paper towel.
Add beef, pork, bread crumbs, ketchup, eggs, salt, pepper and cayenne to bowl with vegetables. Mix with your hands, until thoroughly blended. Do not over mix. Mold meat mixture into a round, about 7 to 8 inches in diameter. Place into a 12-inch camp-style Dutch oven.
Combine glaze ingredients in a small bowl. Brush glaze over meat loaf. Place lid on oven. Bake with coals for 350 degrees (approximately 8 charcoal briquettes under oven and 16 to 20 on lid) about 60 minutes, or until internal temperature reaches 165 degrees. Rest 10 minutes before slicing.